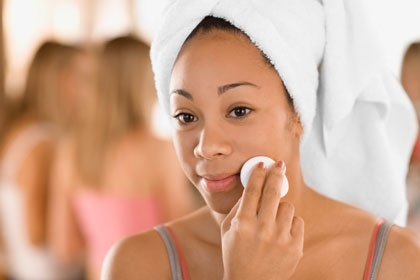 Toner is great for cleaning out and reducing the appearance of large pores and restoring the skin's natural pH levels. Since blackheads are caused by open and clogged pores reacting to oxygen in the air, it makes sense it try to keep the skin around them tight. Though it is not possible to permanently shrink your pores, astringents, a substance used in toner, can be used to close up the opening of pores.
Alternatively, if you wish to take a more natural approach, lemon juice may also be used as an astringent to help close up the pores. However, lemon juice may have the effect of lightening the skin tone during summer so be careful not to ruin your complexion.
Toner can be used every day, twice a day, alongside gentle cleansing of the face and moisturizing. Toner is a must have item for anyone with oily or combination skin types as leaving your pores wide and open is a recipe for disaster.