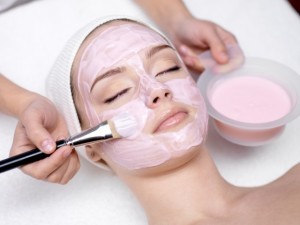 The healing properties of clay were likely first discovered in old Arabia, many millennia ago. However, this ancient folklore remedy has now become recognized the world over as a powerful treatment for skin conditions. It has been shown that when the clay molecules become wet, they create an electrical charge which draws out oils, dirt and other impurities which have been trapped inside the skin's pores. We believe the best facial mask for blackheads and acne are clay masks, as they are natural and reportedly effective for unclogging pores.
Clay masks for acne and blackheads have changed a lot over the years. Many modern clay mask formulas contain an assortment of moisturizing and skin enriching minerals. When the clay facial mask is applied, these minerals in the clay are absorbed by the skin, replacing the blackheads and restoring healthy circulation in the skin. Some people who use clay masks say that not only do they clear the skin of blackheads, but their general skin health is also improved, revealing a smoother skin tone with a softer feel. The clay masks listed on this page are tailored for oily/combination skin types, and we believe them to be the best clay masks for blackheads.
Types of Clay Mask
The best clay mask for you depends upon the type of clay which is suited to your skin. Here is our quick guide on the different kinds of clay masks for blackheads.
French green clay
French green clay has a very high concentration of enriching minerals, giving it its supposed rejuvenating properties. However, due to this concentration of minerals, it is only recommended for oily and normal skin types. If used by sensitive skin it may cause redness and itching.
Moroccan red clay
This more rough and ready clay contains high concentrations of iron and is designed for use by those with an oily and rough complexion. This is a very popular clay amongst men.
Bentonite clay
There are two variations of bentonite clay: clay which is mainly mined within the united states and clay which is found in India. The Indian clay is darker and more mineral rich, containing a large amount of iron. The great thing about bentonite clay is that it is suitable for all skin types, so if you are really unsure of what to go for, then bentonite clay is your safest bet. It is hard to find suitable face masks for dry skin sometimes, but we think bentonite clay is the best face mask for dry skin.
Kaolin white clay
This type of clay is also commonly referred to as china clay as that is where it was first discovered. This clay contains low amounts of iron and contaminating compounds, making it suitable for both children and adults with sensitive skin. This clay works by balancing the activity of the sebaceous glands by reducing how much sebum they produce, making it a good face mask for clogged pores.
Kaolin pink clay
Pink kaolin combines red and white clay and is versatile enough for those with combination, normal, or oily complexions.
Dead Sea Mud
This is our favorite kind of clay. It is extracted from mud in the Mediterranean Ocean and is full of nourishing minerals which are easily absorbed by the skin. This type of clay should be used by people with a normal or oily complexion. The rejuvenating effects of this clay are thought to help acne scars, reducing their appearance and improving long-term healing.
Rhassoul clay
Rhassoul or ghassoul clay is a mineral-rich clay found in the Moroccan Atlas Mountains. This clay contains minerals such as silica, iron, sodium, magnesium, potassium, and lithium, which supposedly give the clay restorative effects upon the skin. This clay is suitable for oily, combination and normal skin types, and we think this is the best clay mask for oily skin.
Now we will provide you with a table of what we consider to be the best clay mask for blackheads for each of these clay types.
A simple guide for a good clay mask routine
Clay masks are a must have product for anyone with oily or combination skin and are used by millions of people all over the world. However, most people are using them wrong! Here we will give you the right guide to using clay masks for blackheads so that you never make that mistake.
First of all, make sure you have all your ingredients and equipment at the ready!
You will need:
Your clay mask product
A wide brush
Cotton pads
A washcloth
An exfoliator
Toner and moisturizer
Optional cucumber or potato slices
Now the first step is to cleanse your face thoroughly and exfoliate to remove dead skin and make the skin more absorbent. The next step is to steam the face and expand the pores. This can be done by putting your face over hot water and letting the steam absorb, or placing a warm washcloth over your face. The most effective way to open up your pores is to use a facial steamer, as the fine mist can penetrate your tighter pores.
Now preparation is over, and it is time to apply the mask! Use a wide brush and spread the mask evenly over the face. A thin covering will do, no need to go plastering it on. If you do not have a wide brush, make sure you clean your hands before applying.
Now apply the cucumber/potato slices and relax with a glass of wine. Read the back of your face mask product for the amount of time to leave the mask on.
Once the time has passed wash the mask off with cotton pads and a washcloth. It is best to remove the mask before it hardens so that it doesn't irritate the skin. Simply finish off with some moisturizer and toner and your done!