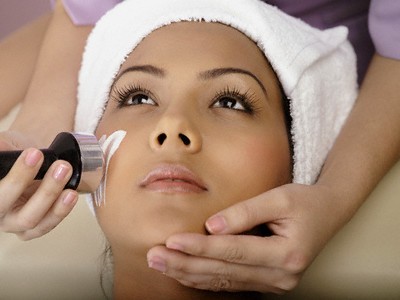 Microdermabrasion is a common skincare treatment given at spas for the purpose of removing dead surface skin and revealing the smooth new skin beneath. This treatment is often used to prepare the skin for further treatments such as clay masks. However, it can also provide profound skin rejuvenating results in its own right.  Think of it as a really in-depth exfoliation treatment and gentle chemical peel all in one.
Microdermabrasion was developed to treat acne scars, chicken pox scars, and other superficial scarring, but is commonly used for the treatment of dull skin, brown spots and age spots in older women. Though not effective for the treatment of deep scars, microdermabrasion reportedly has one of the highest success treatments for reducing the appearance of superficial scarring such as acne scars.
How Does Microdermabrasion Work?
There are two types of microdermabrasion machines, crystal devices, and diamond tipped devices. Both work in a similar way to a vacuum cleaner, pulling up dead skin from the face and body. However, they differ in their method of dislodging the dead skin.
Crystal microdermabrasion devices pull microscopic exfoliating crystals across the skin. They then suck up both the dead skin and crystals into a waste area to be disposed of later. These crystals have anti-bacterial properties which make them suitable not only for acne scars but also for the treatment of active adult acne and blackheads. These crystals are cheap to buy and are not absorbed by the skin. An advantage of crystal based devices is that they are better at dealing with uneven skin surfaces, making them well suited to reducing the appearance of uneven acne scarring.
Diamond-tipped microdermabrasion uses a diamond-tipped abrasive implement to scratch away the dead skin before actively sucking it up. This device relies far more heavily on the skill of the operator, so make sure that before using this type of device you read the instructions carefully.
When Shouldn't You Use Microdermabrasion?
Though microdermabrasion is a well-tested treatment it is not a fix-all for every skin condition, nor can it be used on every skin type. If you fall into any of the following categories, we recommend that do not use microdermabrasion on these areas of your skin.
If you are dark skinned, then avoid microdermabrasion all together, as it may cause scarring or discoloration.
Do not use on moles.
Do not use on pigmented birthmarks.
Do not use on scars caused by burns.
Do not use on stretch marks (it is not effective).
Do not use on deep scars such as those caused by an accident.
Best Portable Microdermabrasion Device for Acne Scars and Adult Acne
Here we will provide you with a couple of reviews on what we think are the best personal microdermabrasion devices on the market for the treatment of acne scars, active adult acne, and blackheads.
PMD Personal Microderm System
We believe that the Personal Microderm System by PMD is one of the best portable microdermabrasion devices for replicating salon quality treatments at home. It utilizes the same aluminum oxide crystals used by professional microdermabrasion machines, which have anti-bacterial properties. This device incorporates a unique, patented spinning disc design, which is reportedly optimized for gentle and painless treatments.
The luxury of this product is its ease of use. The device fits snugly into the user's hand, allowing for good maneuverability. This should allow you to use the device with confidence, helping you to achieve maximal results.
The device comes with several different discs, allowing you to personalize your treatment: 1 White (Training/ Ultra Sensitive), 2 Grey (Very Sensitive), 2 Blue (Sensitive), and 2 Green (Moderate). We recommend that you start out using the training setting and when you progress to treating your acne scars, use the 2 Grey (Very Sensitive) setting. However, you will need to experiment and find out what works best for your skin type. The rougher your skin, the more vigorous your treatment will probably need to be.
One of the reasons that this device is so good at treating acne is due to its unique disc design which supposedly improves your overall skin health by promoting collagen production, unclogging pores and improving skin circulation.
It is important that you watch and follow the instructional DVD which comes with this product to ensure that you use it correctly. Some users report that they were too quick to use the device and made mistakes, causing their skin to become red and inflamed.
Conclusion
We believe the Personal Microderm System by PMD is an excellent choice for those who want to get salon quality microdermabrasion treatments at home. Unfortunately, this device is not battery operated, so its portability is limited. However, it makes a great addition to any home personal beauty parlor. Note that this product is for the treatment of superficial acne scars; it won't be able to remove the appearance of deep acne scars or "pits."
 Check prices at Amazon.com 

 Go to top
RejuvadermMD – At Home Diamond Tip Microdermabrasion
Unlike the previous review, the At Home Diamond Tip Microdermabrasion Device by RejuvadermMD uses a diamond tip for abrasion instead of crystals. This device is designed to be a powerful precision tool for creating a radiant skin tone, reducing pigmentation, reducing the size of pores and keeping skin looking young and healthy.
Many inexperienced microdermabrasion device users do not go for diamond tipped models as they are often more difficult to use. This model, however, is lightweight, fits in hand and has a variety of different settings, allowing you to practice with the device while reducing the chance of harming your skin.
This product is initially more expensive than the crystal microdermabrasion device. However, you may save money long term because you will not need to buy any crystals and the device should require little maintenance. Though the diamond tip is replaceable, it typically takes a lot of uses before you manage to blunt diamond.
Conclusion
As with the crystal based microdermabrasion treatment, it is essential that you thoroughly read the instructions before using this product, as if used incorrectly, it can cause redness and inflammation. However, once you have gotten to grips with the At Home Diamond Tip Microdermabrasion Device by RejuvadermMD, we believe it is a truly powerful tool for reducing the appearance of acne scars.
 Check prices at Amazon.com 

 Go to top