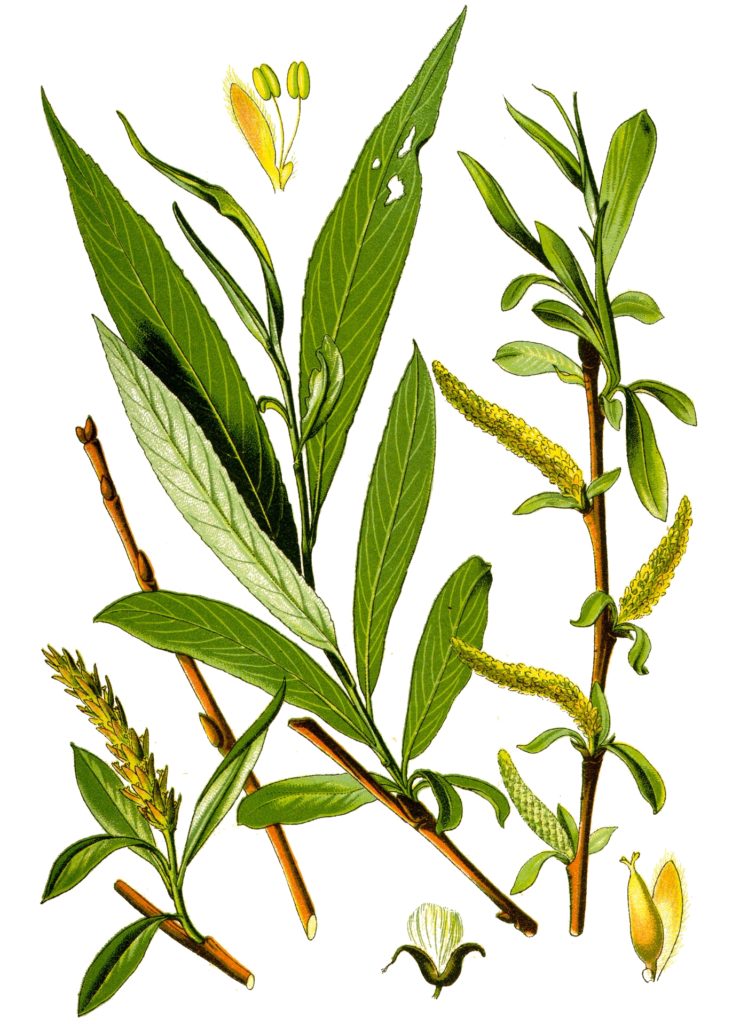 Salicylic acid is a widely prescribed treatment for acne and blackheads and can be found in many face lotions, ointments, and gels. This beta hydroxy acid (BHA) boasts exfoliating effects and is thought to prevent pores from becoming clogged.
The chemical sounding name may give the impression of an aggressive artificial treatment, which could potentially be harmful to your skin. However, salicylic acid, in fact, is a naturally occurring compound which is extracted from the bark of willow trees (as pictured). When used in the right dosage and applied correctly, it generally has very few side-effects while also being considered by many one of the most potent anti-acne treatments available over-the-counter.
How does salicylic acid work?
Salicylic acid works by fighting inflammation, killing bacteria and unclogging your pores. A surprisingly great all-rounder for acne, considering it is just one compound. Compared to many other acne treatments it's not particularly harsh and can be used on most skin types. We find that it tends to work particularly well on blackheads. Salicylic acid is also reportedly effective for dry skin acne and may help reduce irritation, redness, and swelling.
Due to its anti-inflammatory and calming effects, this ingredient is used in many acne products. It is marketed under different names, such as Aliclen, DHS Sal, Betasal, Salex, Acnomel Acne Mask, AcneX, and Zapzyt. Salicylic acid face wash formulas are used in the treatment of acne, psoriasis, whiteheads, blackheads, common warts, and seborrheic dermatitis. Dosage depends on the condition that is being treated as well as on the severity of symptoms.
What Are the Benefits of Using the Best Salicylic Acid Face Wash?
Salicylic acid face wash is available over-the-counter, so may be purchased online. Customers can also opt for salicylic soap, lotion, foam, creams, and gels. Face washes and facial cleaners appear to be the most effective for preventing blackheads and other acne symptoms. These products clear up redness and open clogged pores. When used regularly, they prevent breakouts and soften thick, dry skin.
When you use the best salicylic acid face wash, your skin becomes clean and smooth. This product helps remove dead cells and debris thanks to its exfoliating properties. The concentration of salicylic acid a face wash is much lower than that in acne lotions and creams, so there are usually no side effects. Face washes are mild on the skin and rarely cause irritation or redness. Some people, especially those with very sensitive skin, may experience dryness and mild discomfort for the first week or two, but these side effects go away quickly as the skin adjusts to the treatment.
How to use salicylic acid face wash
The best way to prevent irritation when using salicylic acid is to stick to the recommended application schedule described on the bottle. When salicylic acid is used in a face wash for blackheads and acne, we recommend a dosage of around 2-5%. If symptoms do not improve within a couple of weeks, you can up the dosage a little until you find the right concentration for your skin.
Face washes should not be used more than twice a day. Also, it's important not to use more than one or two salicylic acid products at a time, as you may exceed your daily dose without realizing. If you still experience irritation or redness, apply them less often or pair the face wash with an even gentler treatment containing herbal/anti-inflammatory ingredients. Choose the best salicylic acid face wash and don't make any compromises when it comes to skin health.
Which is the best salicylic face wash product?
#1 Exposed Skin Care Facial Cleanser
The Exposed Skincare Facial Cleanser is commonly bought as part of the Exposed 60 day treatment plan, but may also be bought separately from their website. It features salicylic acid as its key ingredient, which is testimony to the powerful anti-acne effects of the compound.
This facial cleanser also features vitamin pro B5. This vitamin is thought to help regulate oil production in the skin and prevent new bouts of acne from forming.
To combat any potential inflammation caused by the active anti-acne ingredients, the cleanser also features sage extract. Sage extract is a natural anti-inflammatory and helps prevent irritation and redness. That said, this product contains no detergents and all ingredients are non-comedogenic and hypo-allergenic, reducing the potential for irritation.
Key Ingredients
Salicylic acid
Pro-Vitamin B5
Pros
Contains natural ingredients
Non-comedogenic and hypo-allergenic (gentle on skin).
Smells amazing
Cons
May not be effective for cystic acne
Once opened is non-returnable
#2 PERFECT IMAGE – Salicylic Deep Gel Exfoliating Cleanser
The Salicylic Deep Gel Exfoliating Cleanser by PERFECT IMAGE has historically been one of the more popular salicylic acid facial cleansers online. We think PERFECT IMAGE are a great brand as they claim to manufacture products with strict testing procedures to ensure high quality in every batch.
This facial cleanser uses tea tree oil and green tea oil as its secondary ingredients, with tea tree oil being an anti-bacterial and green tea oil being a natural anti-inflammatory. Tea tree oil is a common choice in anti-acne products as its anti-bacterial properties work synergistically with compounds (such as salicylic acid) which improve skin-turn over and clear sebum, resulting in a more reliable product.
Some users report a burning sensation if the product is left on for too long. You should ensure that you follow all instructions when using this product.
Key Ingredients
Salicylic acid
Tea Tree Oil
Pros
Made without animal testing
Pro-collagen formula
Anti-bacterial
Cons
Some users report allergic reaction and burning sensation
Strong chemical smell
#3 Philosophy – Clear Days Ahead Facial Cleanser
Philosophy have gone for a simple and straight-forward approach with their facial cleanser – Clear Days Ahead. They have focused their efforts on creating a well balanced formula that utilizes the active ingredient, salicylic acid, to its full effect. Users report that the product is effective, but can cause drying and subsequent irritation on dry or sensitive skin. It is therefore important to moisturize after using this product.
The orange scent is a nice touch from Philosophy. Users report that the smell doesn't linger long but gives you an invigorating sense of citrus freshness. Just what you need in the morning!
Pros
Simple but well balanced formula
Sweet smelling
Cons
Some users report irritation
Doesn't include anti-inflammatory so may not be suitable for sensitive skin